Do-it-yourself deck staining in Kansas City is often harder than homeowners realize, but the end results are worth it! Fresh stain, especially in a new color, can make a deck look like it was just installed, and many stains offer protective coatings or sealants that help prevent premature wood rot, mold, fading, and other damage.
Before you head down to the hardware store and start tackling your home's deck, note 10 expert deck staining tips. These simple steps will ensure you're happy with that new deck stain and are ready for relaxing and entertaining this summer season!
1. Choose the Right Day for Deck Staining in Kansas City
Deck stain doesn't adhere well to damp wood, so ensure it hasn't rained for several days and that the weather will be dry whatever day you choose for staining. Note, too, that harsh sunlight can ruin deck stain as it dries, so avoid overly sunny summer days for your deck staining project.
2. Know Your Deck Stain Choices!
If the deck is covered in a solid stain, you can't use a clear or semi-transparent stain over it, as noted by Consumer Reports (https://www.consumerreports.org/wood-stains/expert-tips-for-staining-a-deck/). Solid stains fill in wood pores so a clear or semi-transparent stain won't soak in and affect the wood color. Use a solid stain over a solid stain for better results.
3. Apply Thin Coats
Remember that stain and paint are very different in their application; paint should cover the material under it while stain is only offering a light color enhancement. Ensure a smooth application and even finish, and avoid creating puddles or "gloppy" areas along your deck, by applying thin coats of stain. Remember that you can go back and apply added coats if you don't end up with the color shade you expected, but thinner coats are best for DIY deck staining in Kansas City.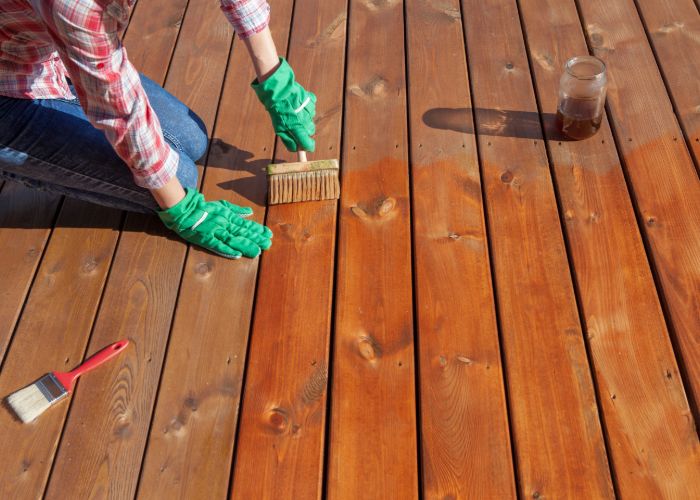 4. Choose the Right Rollers and Brushes
Natural bristles absorb water and go limp after too long, so use synthetic brushes for water-based stains. If you decide to use a roller, opt for one with a short, thin nap, as this will help you apply a thin, even coat of stain. For larger decks, a paint sprayer will do, but ensure you practice on scrap wood so you get accustomed to its use.
5. Soft Wash Before Deck Staining in Kansas City
Obviously, you want to ensure your deck is clean before staining but might have heard that pressure washing will nick, etch, and chip wood, damaging the deck and creating cracks and crevices. To avoid these risks, schedule soft wash cleaning before deck staining in Kansas City.
Soft wash systems use special detergents and low-pressure rinses, for a complete yet gentle clean. Schedule staining for a few days after washing, so you know the deck is dry.
6. Prep and Repair the Wood
Stain won't cover or fill in chips, scratches, and nicks along a deck's surface. Before staining, ensure you've filled in those imperfections with wood putty and have sanded it down properly, for a smooth and even finish.
7. Choose Your Starting and Stopping Point!
It might sound like an unnecessary reminder, but it's vital that you choose a starting and stopping point for staining so you have an easy way of exiting the deck without having to step around stained areas. You don't want to work yourself into a corner or try to make your way off the deck without touching wet handrails, so plan out your path before you begin.
8. Plan for Two Coats
Unless you've chosen the darkest of wood stains, you will probably want to plan on applying two coats. An added coat will ensure the stain seeps into wood pores and does an effective job of transferring color. Two coats might seem like a big job but it will be worth it in the end!
9. Do a Test Area
If you've never stained a deck before or are using an entirely new color, try a test area along a hidden spot, so you know how the stain will look when the job is finished. It's better to find out that your color is too dark or light before you've stained the entire deck!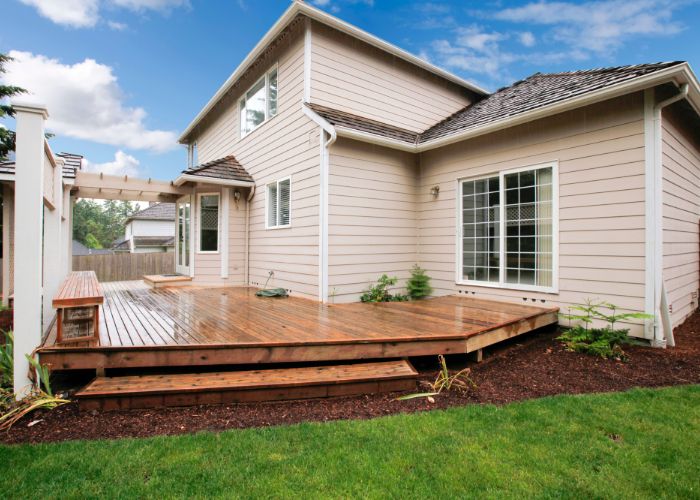 10. Choose a Stain With a Protective Sealant
Sealing a deck is vital for protecting its color and for preventing wood rot and mold. Choosing a stain with a protective sealant can mean one less step, as you can then stain and seal the deck at the same time.
The Deck Builders of Kansas City is happy to provide this helpful information about deck staining in Kansas City. If you're in the market for a new deck or need repairs to current decking, turn to our trained and reliable Kansas City deck building contractors. We carry a wide variety of deck options for you and guarantee our results. To find out more, call today!