Choosing between wood, metal, and composite decking for Kansas City area homes is a difficult process, only because each material offers so many amazing advantages for homeowners! Each material has its own disadvantages as well, which is why a homeowner would do well to take all the time needed to shop and compare their options.
It's also beneficial to discuss your choices and concerns with deck builders in Kansas City, as they can often provide personalized suggestions according to your home's exterior style and your budget! In the end, you'll then have a beautiful deck space perfect for relaxing and entertaining for many years to come.
What Is Composite Decking for Kansas City Homes?
First consider composite decking for Kansas City area homes, as homeowners are often most unfamiliar with this choice. Composite lumber is a mixture of wood fiber or pulp, plastic, and then a bonding agent or resin. These materials are mixed together, pressed, and dried, so that they form a dense, strong, and somewhat heavy material.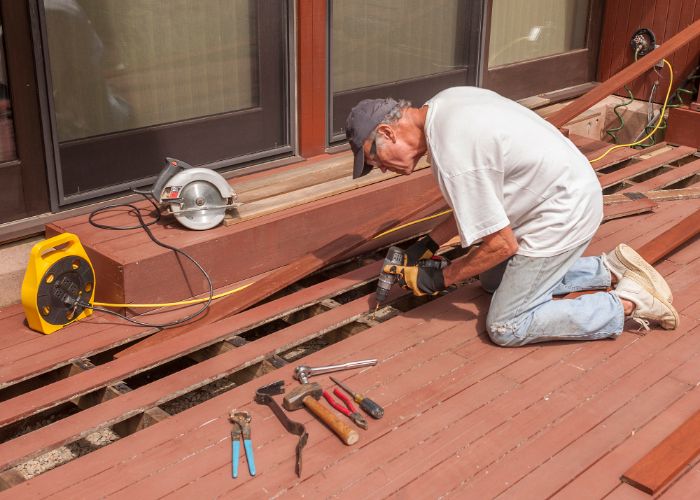 The advantages of composite decking for Kansas City area homes is that its plastic components provide a strong and durable surface, more resistant to scratching, nicks, etching, wood rot, mold, mildew, and other damage than wood alone. The plastic materials also provide a surface that resists dirt and germs and which is easy to clean.
Another advantage to Kansas City composite decking is that its wood pieces provide a more attractive appearance than plain plastic! Many homeowners appreciate wood's appearance and especially its warmth and rich colors that are difficult to duplicate with other materials. By choosing composite decking for a Kansas City home, you get "the best of both worlds," with a  durable surface that still resembles natural wood.
One downside to composite deck materials is that they're difficult to cut and fabricate with standard household tools. If you're planning a DIY deck, they might not be the best choice, unless you invest in a kit or choose precut composite deck lumber that won't need cutting, trimming, and the like.
Why Choose Wood Decks for Kansas City Area Homes
Wood decks offer a classic look that most homeowners love; since wood comes in a wide variety of species, you're sure to find something that fits your home's appearance and exterior color. Wood also "breathes" even after being cut, improving outdoor air quality, and provides a soft surface underfoot.
Most softwoods are easy to cut with household tools, making real wood the best choice for DIY deck projects. Softwoods also hold paint and stain colors easily, so you can change up the look of your deck as needed without a lot of prep work, sanding, and the like. Some hardwoods and exotic woods, such as teak, are much denser and more difficult to cut, so consider buying precut planks if needed or choose a soft pine for your deck project instead.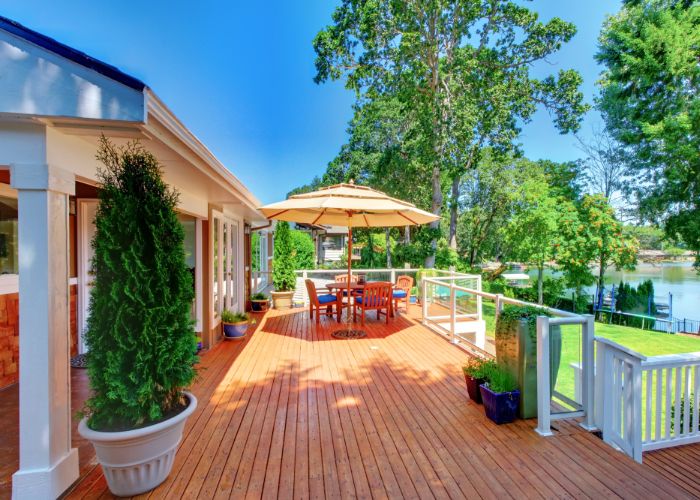 While wood does offer many advantages, note that it needs consistent sealing and recoating to repel water, insects, rot, and mildew. Real wood might also show footprints and suffer nicks, scratches, and dents more easily than other deck materials. If not maintained properly, wood might also begin to cup, bow, or splinter, necessitating deck restoration for a Kansas City property!
If you do choose a wood deck for a Kansas City home, ensure you know the costs and work involved in its long-term maintenance. Choose a softwood you can easily fabricate if you plan on installing the deck yourself or managing needed repainting and sealing over the years.
As wood is also more prone to nicks, scratches, and other such damage, ensure you're ready to take proper care of your new deck! Avoid wearing high-heeled shoes or heavy work boots on your deck, as these both scratch and dent wood. Don't drag furniture over the flooring surface and ensure children keep their bikes and toys off the deck as well! With these simple tips and regular deck restoration in Kansas City, your deck should last for decades.
Choosing Metal Decking for a Kansas City Property
Aluminum decks offer lots of durability and easy maintenance. Most deck flooring materials receive a baked-on powder coating, so metal decking is available in a wide range of colors and tones. That baked-on coating also helps protect metal decking from rust, corrosion, and other wear and tear, ensuring a tough deck surface that lasts for years.
The foremost advantage to metal decking is its overall durability. Metal is impervious to rot and any developing mold, mildew, and other contaminants are somewhat easy to clean. For homes with lots of tough foot traffic, metal decking also resists chips, cracks, nicks, and scratches. If you know you can't keep your kids and large pets off the home's deck, opt for metal!
One downside to metal decks for Kansas City properties is that they are less soft underfoot than wood and composite decking. If you do choose a metal deck for a Kansas City property, be prepared to set down some area rugs, for added softness and comfort. Many homeowners also appreciate the natural look of wood or composite and might not find metal appealing no matter its color. It's also difficult to repaint metal decking even with outdoor paints meant for metal surfaces, so you might need to replace your deck when it's time for a new color or style.
Homeowners typically cannot cut metal deck slats and boards with household tools, so a metal deck requires a kit or installation by a deck company in Kansas City. You might also need to rely on a professional decking contractor when your metal deck needs repairs or restoration!
Keep these points in mind when choosing between wood, metal, and composite decking for a Kansas City property. Remember long-term maintenance costs as well as installation costs, the overall style of your home and backyard area, and your own comfort as well! Choosing the best decking material ensures a beautiful, inviting deck you'll enjoy on your Kansas City area property for many years to come.