There are few things more inviting in the spring and summer than sitting out on your deck enjoying the sun, fresh air, and the company of family and friends. But before you invite everyone over to enjoy your deck, it's important to perform a thorough inspection to ensure your guests will be safe from any hidden dangers lurking beneath the surface of your decking boards. You may be thinking how do I know if my deck is safe. If you're new to decks or just want some tips for making sure your deck passes inspection, here are nine pro tips for deck inspection that every homeowner should know about. 
If you end up requiring a deck repair, our professionals are ready for the job! Learn more about the need for potential deck repairs.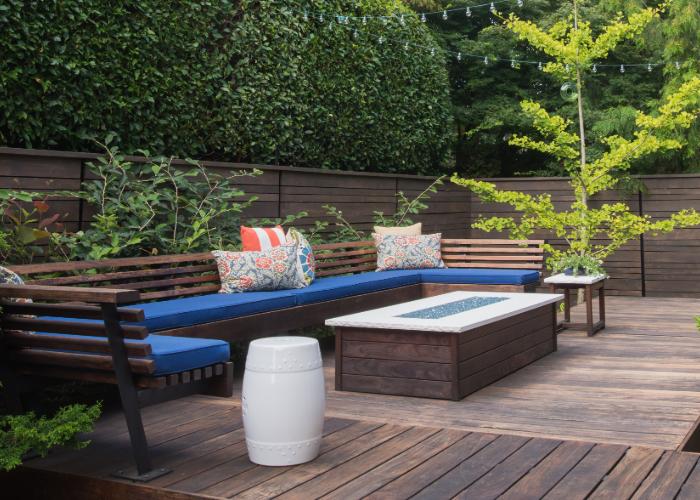 1. Get a deck inspection
This step is a no-brainer. You might think you know your deck well enough to say whether or not it's structurally sound, but an expert will be able to tell you with 100% certainty if there are issues that could lead to serious injury. A few hundred dollars spent now on an inspection can end up saving you thousands in damage down the road.
If you want to avoid a catastrophe, it's important to hire a professional deck inspector. A deck inspection is best done during spring when it's warm enough for workers to walk on your deck without falling through—that way, they can get accurate measurements and report back to you before any damage gets done. You also don't want them inspecting your deck in cold weather because of a number of reasons. Many experts won't even offer inspections unless temperatures are above freezing.
With the average cost to build a deck being between $4,000 and $16,000. That's a lot of money to shell out for a new deck. Getting it checked out and having your deck repaired will bring you peace of mind and go easy on your wallet!
2. Listen to your gut
If your deck doesn't feel safe to walk on, trust your instincts. Don't take chances—get it inspected and fixed if necessary. It may sound extreme, but playing it safe can save lives—even your own. And remember, ultimately you are responsible for maintaining a safe home environment, don't let fear get in your way of doing what's right.
3. Observe the surface
Check that there are no peeling, chipping or flaking paint or stain. If you see any of these problems, they may be a sign of more serious issues such as dry rot. You should also look out for cracks and bulges in railings and stairs—these could lead to a fall on an otherwise safe surface. Make sure all handrails and balustrades can support your weight, if not, seek professional advice right away.
4. Examine the framing
Are all of your deck's vertical and horizontal structural members—including posts, beams, and joists—in good shape? Are there any rotted or cracked wood members that should be replaced to make sure your deck is safe? Are there any signs of pests or other damage from animals such as termites? If you notice anything out of place with these materials, it's probably time to replace them.
5. Look at hardware and fittings
Deck hardware such as screws, bolts, nails and railings are often prone to corrosion, so be sure to check these carefully. Also make sure that all of your deck's fasteners are tightly secured in place. If any of them are missing or seem loose, they should be replaced before they can cause injury or fall out completely. By keeping an eye on deck hardware like nuts and bolts, you can avoid accidents on your property. 
6. Check joists
Make sure your deck's foundation is sound by visually inspecting each joist. If you see any signs of rot or other damage, call a pro to assess your situation. There are three main types of fasteners used to secure beams and joists together, which include steel nails and screws, manufactured nails made from plastic or aluminum, and galvanized spikes. Fasteners should always be kept in good shape. If they're loose or missing entirely, they should be replaced.
7. Check attachments to structure
Look closely at any bolts or other attachments that are holding your deck onto a house or structure. Inspectors will tell you that if any part of a deck is attached with nails, you should have it looked at by a specialist. If screws are being used to attach parts of your deck (rather than bolts), check them carefully—these can come loose over time and cause serious injury. If they look rusty or corroded, bring them up with an inspector. 
8. Loose boards or planks
Are there any boards or planks on your deck that are loose, and about to fall off? If so, you'll want to have the deck repaired immediately. And then you'll want to ensure that no one is using that deck until it's been repaired. Loose boards and planks may not seem like a big deal but they can cause major injury if someone trips over them! Make sure to report such issues as soon as possible. It will save time in the long run by avoiding an accident later down the road.
Make sure that someone takes care of them right away because they could hurt someone if left unchecked. Additionally, make sure to check both your deck's stairs and its handrails. They may also be damaged or unstable, but they are usually quite easy to repair a deck so don't ignore them.
9. Evaluate the ground around it
A deck needs to be supported by a sturdy structure, or it can fall down. That means if your house is built on a slanted lot, it's important to evaluate where your deck will sit so you can reinforce and support that space appropriately. Look out for shifting soil or sagging foundations. Sometimes small cracks in concrete are indicative of larger problems beneath. If you're not sure whether there's serious damage, consider having someone with expertise take a look at it. Sometimes simple deck repairs—like resealing wooden posts—can keep an otherwise unsound deck from caving in entirely, but these need to be done before any other work gets underway.
Use those same skills to assess how well your deck is attached to its supports. If you notice any cracks or obvious damage, it might be time to check in with a professional. They'll be able to identify potential risks and advise on whether or not there's any reason your deck should be torn down altogether. Of course, if your deck is just showing its age, they may suggest making simple deck repairs that can keep it standing strong for years to come. If you require services from The Deck Builders of Kansas City, give us a call!