A beautiful new deck in Kansas City is an excellent choice for your home, providing you with room for relaxing and entertaining while offering a safe and sturdy surface for your outdoor grill and patio furniture. While a deck is a great investment for any home, most homeowners worry about the cost of deck installation and if they can find something in their budget.
The typical cost of deck installation is about $25 per square foot for mid-range materials and a few added features, such as a built-in bench. Low-range materials without added features might cost $15 per square foot, while high-end cedar decking with lots of extra built-ins often ranges around $35 per square foot.
To ensure you end up with a new deck in Kansas City that you love, note a few tips on how to contain these costs and why it's best to leave this work to a deck contractor rather than trying to install a new deck on your own.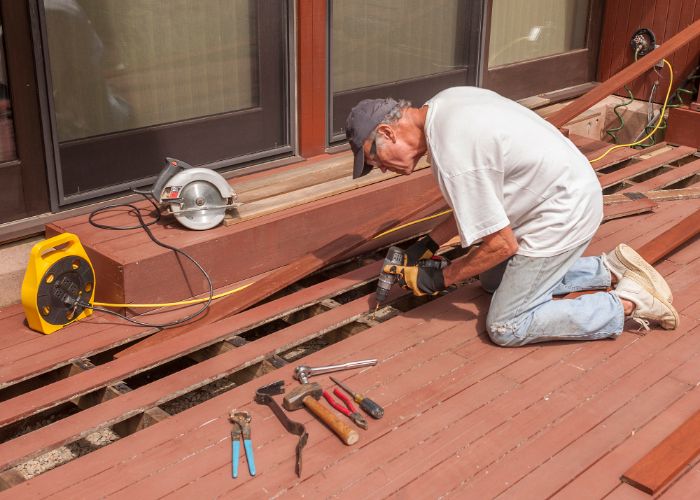 How to Save on Deck Installation Costs
One obvious way to save on deck installation costs is to choose the smallest size possible for your space. However, you don't want a deck so small that you would need to sit uncomfortably close to your grill or run out of room for all your patio furniture! Your deck should be a comfortable and welcoming space with room for everyone and everything you need to get the most out of it.
It's also good to consider lower-end materials such as pine rather than expensive cedar. Composite decking in Kansas City is also very affordable and durable, although it might not offer the look and feel of real wood that you prefer. Your deck contractor should have many options available for you in a variety of price points, so you can find something you love that also fits your budget.
Why Invest in a Deck Contractor in Kansas City
Deck installation is not a DIY job! A deck must be level and even to stay safe for foot traffic, and decks need air circulation around their slats to reduce the risk of mold growth. Improper connections and the lack of bracing along the middle of the decking can result in sagging and other long-term damage! To ensure you're happy with your deck for many years to come, and to avoid otherwise unnecessary damage and repairs, invest in a deck contractor in Kansas City rather than a general contractor or trying to manage deck installation on your own.