Residential deck building is not a DIY project, even though readily available kits with precut lumber might make it seem like an easy task! A deck should be sturdy and secure with enough space between slats for air circulation but not so much space that they create a tripping hazard, and materials should be sturdy, durable, water-resistant, and a good fit for your home's exterior style.
Pine is a favorite choice for deck building due to its strength, low cost, and ease of fabrication. Bamboo is very eco-friendly while cherry wood offers a unique, rich color. Wood-plastic composites are tough and durable but difficult if not impossible to fabricate with household tools and might offer an artificial look and feel.
As all deck building materials offer their own advantages and disadvantages, it might be useful to simply review your options and then choose what works for your budget and particular needs. You can then discuss your choices with a deck building contractor near you, and ensure you end up with a new deck or patio you'll love for years to come.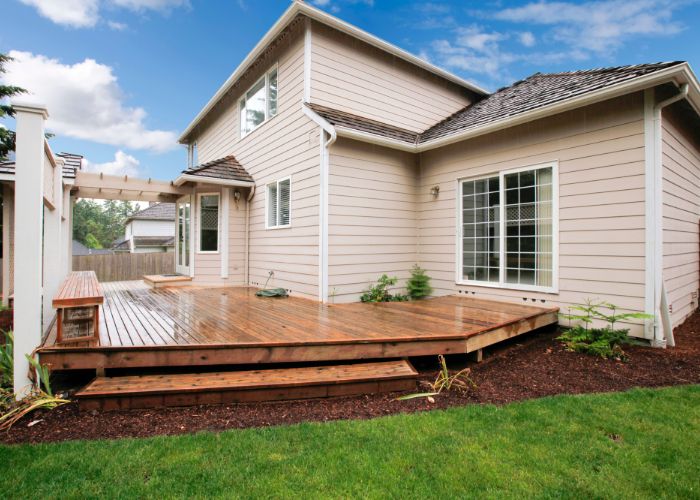 How to Choose the Best Deck Building Materials
There is a wider variety of deck building materials available to homeowners today than ever before! While it's never recommended that someone build their own deck, it's helpful to know the various pros and cons of different materials and design options, so you can work with your deck and patio contractor and find what works best for your property.
Pine is relatively easy to cut and fabricate with household tools. While it's best to leave deck building to a pro, if you do wish to build a small deck or add some features to a current deck or patio, opt for easy-to-cut pine.
Cedar and redwood offer lots of durability and are typically more affordable than many other deck building options.
Mahogany also offers a deep, rich tone you might appreciate for your home's deck or patio construction, but is also one of the highest-priced materials.
Teak and bamboo offer lots of water resistance, making them excellent choices for homes in tropical areas or for creating a pool deck. However, the density of both teak and bamboo make them difficult to cut with standard household tools.
Teak tends to fade and weather over time, shifting from a beige wood tone to a silvery gray color. Someone homeowners appreciate this look but it might be helpful to check pictures of aged teak before deciding this is the wood for your new deck!
Bamboo grows quickly and is easy to replenish, making it a very eco-friendly choice.
Composite decking is tough, durable, and easy to clean. Wood composites are often manufactured with wood chips and other materials that would otherwise wind up in landfills, making it a very eco-friendly choice of decking material.
Wood-plastic composites offer added durability over wood alone.
Plastic decking is strong, durable, watertight, and easy to clean, but homeowners often prefer the look and feel of real wood or wood-plastic composites versus plastic decking.
Aluminum decking is very durable, water-resistant, and easy to clean. Aluminum is also easy to recycle, making it very eco-friendly. However, you might need to paint aluminum a light color to keep it from holding warmth during summer months and add area rugs to keep the surface warmer during autumn!
The Best Deck Building Materials for Your Home
While you might be thinking of your budget alone when choosing new deck materials for your property, it's good to consider long-term costs, needed maintenance, the expected lifespan of various options, and if your choice fits your home's overall décor and style! Note a few added tips for choosing deck building materials for your home.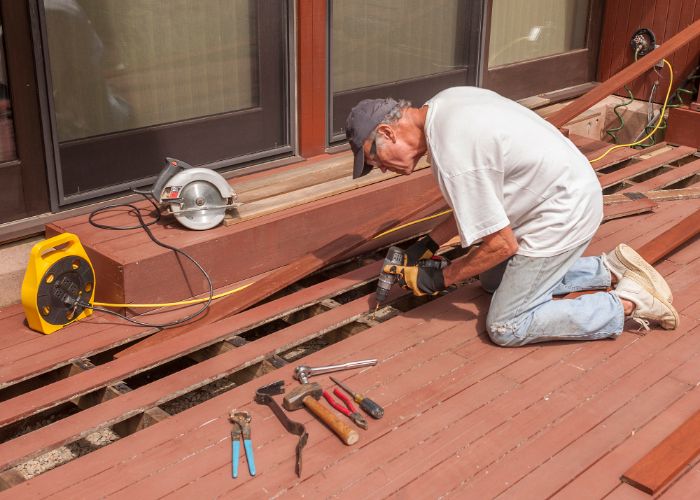 Durable materials such as teak and cherry are often more expensive than pine and other similar choices, but consider expected wear and tear on your deck and the cost of replacing deck building materials over time. Having to continuously replace worn or otherwise damaged pine slats might make that low-cost deck less cost-effective over the next few years, versus investing in durable teak or a composite material.
Along with maintenance and potential replacement costs, note ease of cleaning when choosing deck building materials and especially if you have children or pets or entertain often. It's often easier to clean muddy paw prints and spilled food from plastic or composite decking than pine and other wood choices, as an example.
Consider surrounding building materials on your property. Exotic teak and bamboo might clash with traditional pine patio furniture, while a plastic deck might look very cheap and out of place next to your property's wrought iron fence.
Note the expected size of your deck and how certain building materials might look once completed. For instance, you might not like the look of unfinished pine or a bold bamboo tone for an overly large deck.
Slat size is also important to consider according to the expected deck size. Small bamboo or teak slats might look busy and cluttered for a large deck, whereas those smaller slats offer a more proportioned look for small decks and patios.
Consider your property's landscaping colors when choosing deck building materials. If you love red roses, a cherry wood deck might simply blend in with those dark flowers whereas a lighter pine color allows them to stand out. On the other hand, a cherry, mahogany, or bamboo deck allows white flowers to "pop" and get noticed!
Quick Tips for Creating the Best Deck and Patio Design for a Home
Once you've settled on deck building material, how do you choose a design for your new patio or other outdoor space? Remember that a deck might need room for built-in storage, a grill or outdoor cooking space, lights along its perimeter, a fire feature, and other such accessories. Never "skimp" on space for your deck or patio but ensure you create a space that you'll love and that's perfect for relaxing and entertaining friends!
Note that decks typically need ground clearance or elevation. A small amount of clearance keeps wood off damp soil while allowing for proper air circulation around its slats. Since decks need to be elevated off the soil anyway, consider if oversized stairs might add some drama and style while also allowing space for greenery and added lighting. It's also vital to consider adding a rail of some sort, so ensure your deck design has enough room around any stairs, even just one step, for some type of safety railing.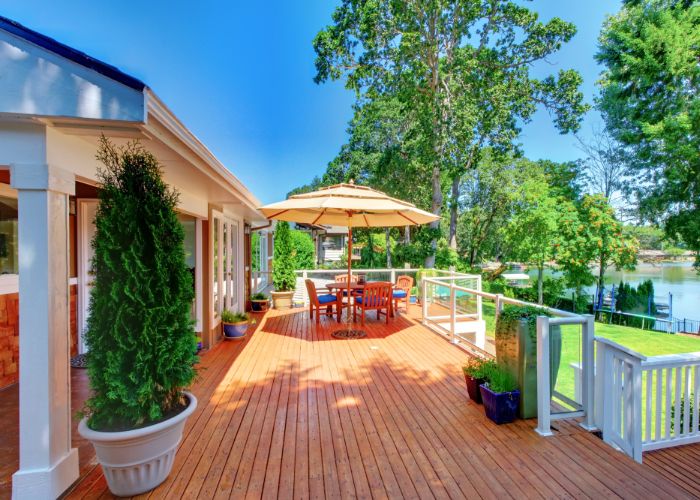 When creating a deck design, it's good to note clearance around furniture as well as room for built-in seating and storage, but ensure your deck is not so overly large that seating becomes cumbersome. While you want to place a grill or barbecue away from the house and far enough from guests that they're not bothered by smoke, you also want the person working the grill to be able to mingle with everyone while cooking! Choose a deck or patio size that allows for added room and comfortable entertaining without being overly large and awkward.
Why Every Homeowner Should Avoid DIY Deck Building
Browse any lumberyard or home improvement store and you're likely to see deck building kits, precut lumber, and tool rental, all of which might make DIY deck building seem like a simple task. However, deck and patio design is best left to professionals, to ensure an outdoor space you'll love for many years to come.
One consideration regarding deck building is that creating a level and even deck is often more difficult than homeowners realize. A residential property is typically sloped or graded, even just slightly, to allow for proper drainage. Without some skill and knowhow, you might find your DIY deck also slopes downward, creating an uncomfortable surface and increasing the risk of cracks and other damage to wood slats.
It's also vital that slats are placed slightly apart from one another, to allow for proper air circulation between them. However, overly large gaps between slats create a tripping hazard and don't provide a solid, secure surface for patio furniture, grills, and other such pieces.
Fastening a deck to a home's exterior structure is also complicated. It's vital that you use strong, secure fasteners while also reducing the risk of rust and corrosion or damage to a home's exterior walls. A deck building contractor near you ensures a solid connection without damage to the deck or house, so you can count on your new deck being strong and secure for years to come.
Related Questions
Do you need a permit to build a deck?
Permit requirements vary from location to location so a homeowner would do well to check with their local city inspector or other such office before starting a deck building project. However, note that most projects that involve attaching something to a home's structure, including a deck, often require permits.
How far apart do you space deck footings?
Deck footings should typically be spaced no more than 8 feet apart. This ensures your deck is structurally secure and will also disperse weight across the deck surface, reducing pressure on each slat. If you're not sure how to space footings, call deck builders near you and have them handle your deck building project!